As a loyal Timmies coffee drinker, I was delighted to hear that Tim Hortons had launched an "official" loyalty program; I was finally going to get a reward beyond that early-morning "ahhhh" of my first sip.
The new Double Double card has some interesting things to offer: unique technology, no fee and an easy to understand 1% back in Tim Cash. Its low household income requirement – and student card option – makes the card highly appealing to those who wouldn't qualify for premium credit card rewards programs. As an initial foray into loyalty, this card is an excellent way for Tim Hortons to capture some data, learn about shopping patterns and spending distribution and test some targeted marketing programs. I look forward to seeing Tims broaden its loyalty offering down the road to engage more of its customers – those who are already committed to their chosen payment methods.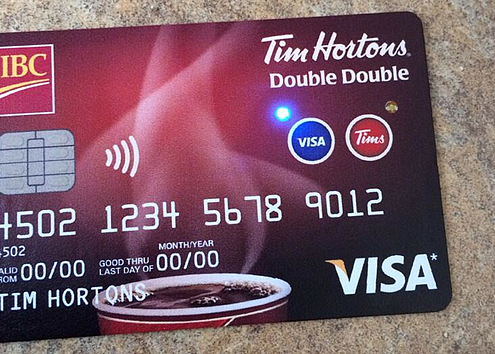 By their very nature, tender-based programs – those that require the use of a specific payment vehicle – have more limited appeal than tender-neutral ones, especially if they are based solely on a credit card. Even the popular Target Redcard(which offers both debit and credit options and a very rich 5% discount) achieved less than 20% penetration as of 2013. Some customers have a strong preference for cash or debit cards, particularly for smaller ticket purchases. Others – particularly high earners and spenders – are heavily invested in premium credit card programs that offer richer dividends and broader redemption options.
Tim Hortons' "Double Double" card
There is definitely a market for the Double Double card, as evidenced by the reviews on CIBC's website; some applicants reported being told that delivery of their cards would take a few more weeks because of "the high number of applications." The card's strong appeal is rooted in Tim Hortons' massive brand equity in Canada, as well as some attractive features:
1. It offers instant gratification. Rewards earned through spending on the Double Double card's Visa mode are instantly loaded as stored value onto the card's Tim mode. Other cash back cards mail cheques monthly, quarterly or even annually.
2. It's a very straightforward value proposition. 1% back on all credit purchases, with no caps, available to be spent back in-store.
3. It's cool technology. The two-button dual card is unique in Canada and adds some fun to the transaction. It makes you want to be the first on your block to own one.
4. It's a great card for students and Millennials. It's free, and the annual household income requirement is only $35K. There is also a student card option, linked to a CIBC bank account. Other cash back cards carry fees, or require income of $60-$100K.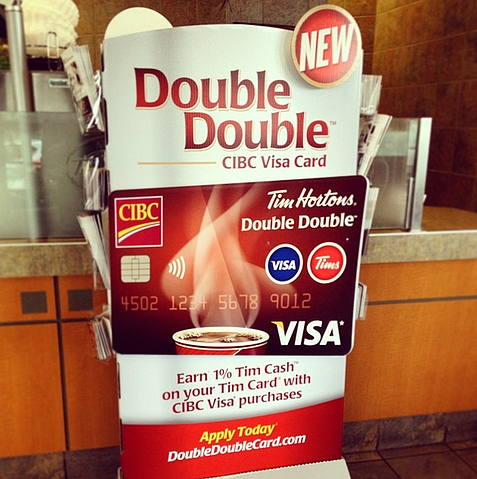 However, the Double Double card may have a challenge attracting customers who hold premium credit cards with their own loyalty programs. These high-income heavy spenders often find that their potential earnings offset their annual fees. Some of them may prefer travel or catalogue rewards programs with bigger ticket, aspirational rewards. Others may choose real cash – even delayed cash – over instant Tim Cash.
As a loyalty program designer at Bond Brand Loyalty, I can appreciate a program that has strong appeal to a specific target market (even if I don't happen to be in it, anymore). For example, if Tim Hortons is competing with McDonald's for Millennial attention, this card may be a helpful tool in retaining customers and rebuilding share, particularly if the company makes good use of the data it generates.
Brand Aligned Loyalty Program
The Double Double card does offer a comparably strong monetary reward to this target group. I just wish it evoked more of the "warm and fuzzy" feelings so many of us have about the brand, and I look forward to seeing it evolve in that way. I associate Tim Hortons with its strong community involvement – like the Tim Horton's Children's Foundation – and I understand that their new partnership with CIBC will generate significant contributions. A direct tie-in with the card – such as the ability to contribute savings, or even have those contributions matched – could be a real Double Double win-win.
I think of Tims as a great gathering place to meet friends, and I'd love to see fuller integration with the TimmyMe App: the ability to check your balance, treat your friends to a coffee, send meet-up invitations or refer friends to the program.
I applaud Tim Hortons for making a foray into loyalty. I am excited to follow its evolution and hear about its progress.