Your dentist has a file on you. One that includes your name, birthdate, address and other personal details. You visit your dentist regularly, and tell your friends about your experiences with him. What if your dentist never used your first name? What if he never referred back to your visit history or dental records?
Apply this concept to a brand's loyalty Program.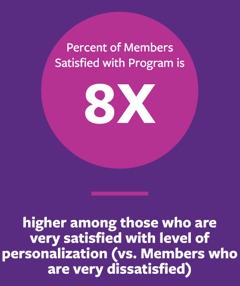 When you enroll and participate in a loyalty Program, you've likely given up a good amount of personal information—and it's not always put to good use, or at least not overtly. Consumers have noted this disconnect. The sixth annual survey by Bond Brand Loyalty has found that only 22 percent of loyalty program members are very satisfied with the level of personalization they're receiving from brands. This highlights a tremendous opportunity for brands as satisfaction is 8X higher when programs are highly personalized. The thing is, personalization does not have to be complicated to yield this kind of payoff in satisfaction. Here are three steps to improve your personalization efforts today:
Step 1: Define your opportunities
Have you thought through all your personalization opportunities, and are you getting credit for any existing efforts?
Your personalization opportunities can range from very simple to highly complex, and chances are, you're already doing things that you aren't getting credit for. Do you have a birthday benefit, for example? And if so, are your customers aware of it? If personalization efforts aren't well communicated, then customers aren't aware and you're missing an engagement opportunity. It's entirely possible that there are some easy wins through adjustments to messaging and communication. For example, make sure you are clear in your communications with customers about how you'll be using the data you are asking for during registration or along a customer's journey with you.
After exploring existing efforts, consider how you're leveraging the data you have to provide a better program experience. Here are some simple ways to improve and personalize the experience:
Use first names in email, online and other channels. This seems like a given, but you'd be surprised by the number of brands that don't include first names in emails.
Make it easy for members to view their points balance and program status across channels—in emails, online, in app, in store, etc.
If you're a brand with a program, show your members that you know them by including the member's program status and balance in program communications as well as brand communications.
Include purchase history online or in an app for members to view.
Allow members to add items to their wish list.
Send Birthday offers, especially if you have the data.
Make it easy for someone to repeat a previous purchase activity.
Opportunities for creating personalized experiences also exist with front-line staff. With only 20 percent of members strongly agreeing that a program or brand representative makes them feel special and recognized, ensure you also make relevant data available to your front-line staff. Imagine the member experience they could provide with just a little bit of background, and the right technology to access member information in real time.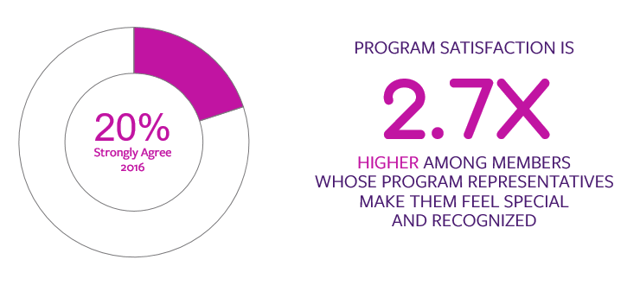 One simple example of personalization is how Starwood's SPG Loyalty program allows members to select and personalize their room preferences either in their account profile or for each individual stay, as requirements change. Members can select bed type, feather-free, features like work space, workout gear required (rent New Balance gear) and room upgrade preferences like a higher floor or better view. Hotels are constantly adding new features like this to advance, streamline and better personalize the guest experience. Just this month SPG announced improvements to their SPG Keyless, a streamlined mobile check-in process custom-made for their on-the-go travel needs. "SPG Keyless is literally opening doors for SPG members. It is also transformative for Starwood's hotel associates, allowing them to better engage with guests. Rather than the first interaction being the swipe of a credit card, hotel associates can now focus on ways to better personalize guests' stays."
Once you've checked the box on the simpler personalization opportunities, consider more complex scenarios such as personalized recommendation offers based on preferences and purchase activity. Better analytics, machine learning and other newer technology solutions make this easier than ever before.
Step 2: Prioritize Your Opportunities
What loyalty program opportunities should be tackled now, next and later?
Taking action and making a shift takes work but done right can yield some very impressive returns. A recent Forrester study found that 40 percent of respondents said that personalizing offers and experiences based on behavior is a top challenge, and 30 percent selected measuring the ROI of their loyalty program as a top challenge facing their loyalty initiatives.
When determining what to tackle now, next and later, consider the investment against the expected ROI, the level of organizational commitment required and that ever-fine line between cool and creepy.
With ROI, carefully consider where you're going to see the greatest impact for the investment—and the greatest lift to customer satisfaction. While improvements in personalization can definitely improve member satisfaction, there is a point of diminishing returns, so making sure your efforts go toward the areas of greatest return is critical.
In terms of organizational commitment, be careful not to underestimate the ongoing needs of personalization initiatives. If fresh and relevant content is required to drive your personalization initiative, what is your plan to keep that content rolling in? This requires resources to be focused on this effort, and you need to ensure this is understood over the long term. If you go ahead without the appropriate long-term plan and commitment, your efforts will backfire on you and you will create dissatisfaction for your members.
And with cool-to-creepy, make every effort to learn the comfort level of your members with any initiative and consider this as you prioritize your efforts. The Bond Loyalty Report found that "cool" ways of personalizing the relationship might include the ability to build online wish lists or order ahead for prompt in-store pickup. And we've seen this be successful for brands like Starbucks, who attribute higher sales to their Mobile Order & Pay service. "Creepy," on the other hand, might include sending offers to consumers and their friends based on their social media profiles, or letting restaurant customers leave, charging the meal to a credit card on file. The best way to ensure you don't cross into the creepy end of the spectrum is to always gain permission from customers for the ways you want to use their information; transparency breeds comfort and trust.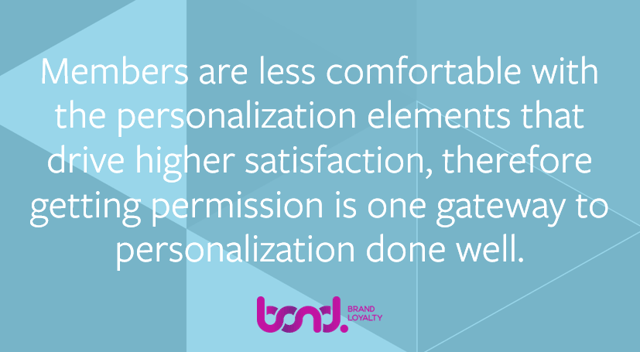 Step 3: Measure + Optimize
How will you measure results and plan for continuous optimizing?
It's important to be clear on your objectives and KPIs—and to establish a sound strategy for measuring results so you know what's working and what needs to be adjusted. Automation may help, but it doesn't discount the need for regular reviews and tweaks toward optimization. Like any relationship, personalization is an ongoing journey, and it takes ongoing attention. What is defined as personalization today will continue to evolve as your members do.
Hopefully these simple steps and questions will get you thinking—even if the answers are a little complex.
So, where will you start today?