Scott Robinson leads our loyalty consulting and solutions discipline, and is our thought leader for consumer loyalty strategy engagements. His focus is enabling clients with the best possible solutions for their specific objectives and environments, and ensuring Bond Brand Loyalty maintains market leadership in terms of loyalty and CRM innovation, technique and approach.
Q: What is it about brand love vs. program love that is important to CMOs?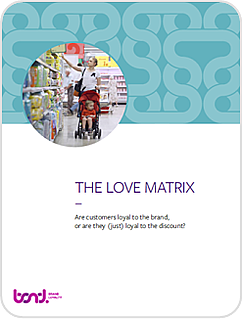 A: We often see brands that have done a good job of engendering a customer's love of the loyalty program, but meanwhile haven't done a good job of driving love of the brand itself. All marketing is loyalty and, to that end, all activities by a brand, including its loyalty programs, need to work on driving loyalty to the brand. So, when we evaluate the efficacy of programs – as we've done using The Love Matrix – one of the things we want to evaluate is whether loyalty being built by the program is being transferred to the brand.
When brands lean exclusively on points, discounts, and rebates as means of engaging customers, we've found that this only drives loyalty to the program and, as a result, customers are more susceptible to defecting to a competitor's brand in pursuit of a bigger discount. The implication for CMOs: make sure that marketing activities include benefits beyond the monetary and drive brand loyalty (not just program loyalty), and drive sales and customer retention.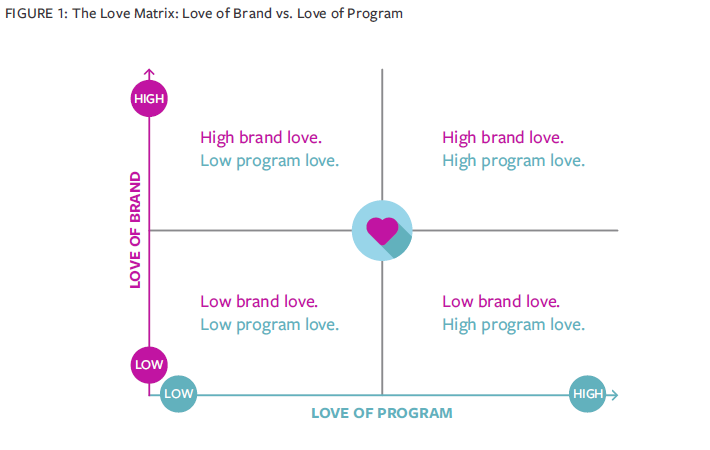 Q: Can you explain the purpose of The Love Matrix and why brands should strive to be in the top right quadrant?
A: The purpose of The Love Matrix is to look at the anatomy of loyalty that consumers have toward brands and programs in which they participate. It is also a framework to evaluate the extent to which consumers are loyal to either the brand or merely the program. Along the horizontal axis, we're evaluating the extent to which consumers love the program, and on the vertical axis, we plot the love of the brand. It is important for brands to be in that top right quadrant, because that is where the program and the brand are in sync. Brands in this top right quadrant, such as Nordstrom, do great work in driving loyalty to their programs and are also driving high love of the brand – which, by the way, we have discovered is being achieved through a high-touch customer experience.
For brands in the bottom right quadrant that have high program love but low brand love, such as Best Buy, we recommend that they engender more love of the brand, which can be achieved by making sure that their programs deliver a stronger customer experience for members – one that delights customers and recognizes members as valuable customers.

Q: Why is brand alignment key to high program and high brand love?
A: Brand alignment is a principle we embrace in our approach to loyalty solution design, and is a principle we recommend to brands and marketers as a way of improving the efficacy of their marketing initiatives, including loyalty programs. Brand alignment is about ensuring that the purpose, personality and attributes of their marketing initiatives serve to fulfill the promises the brands make to their customers. This means that all of the experiences delivered by a program to customers embody the essence of the brand.
The implications for CMOs are meaningful. Brand aligned programs deliver:
3 times higher member satisfaction
6 times higher likelihood to recommend
8 times higher propensity to repurchase
So, for all the right business reasons, brand alignment makes sense because it delivers results.
From the perspective of competitive differentiation, brandaligned initiatives are also less mimic-able, because when a marketing initiative lines up to and embodies what the brand represents, it can't easily or credibly be copied by a competitor. And if a competitor were to do so, it wouldn't have the same effect because it wouldn't be aligned to its brand and, therefore, wouldn't really fit. So, brand alignment is key for brands looking to move over into that coveted top right quadrant in The Love Matrix.

Q: Why should brands be concerned about fostering stronger brand loyalty?
A: If you want consumers to choose your brand instead of your competitors; forgive your brand during missteps; miss your brand if it were to disappear – brand loyalty is paramount. When a brand earns customers' loyalty, the brand stands a better chance of having customers make repeat purchases and who are willing to pay a premium for the brand's product or service, ensuring customers stick with the brand over the long run. Brand loyalty is what all brands should be striving toward, because it delivers material and tangible business results.
Q: What are the top 3 takeaways for CMOs who read The Love Matrix?
A: This is what CMOs need to know:
1. Loyalty initiatives should all be driving loyalty to the brand and not just the program. When all of a CMO's marketing initiatives are aligned on this strategy then he or she will see better financial gains as a result.
2. CMOs must make sure that their programs and loyalty initiatives are brand aligned and embody the personality and attributes of the brand, and uphold the promise the brand makes to its customers. Achieving this will deliver higher customer satisfaction, better retention, and increased brand advocacy.
3. A better customer experience for program members brings to life the things we know drive feelings of delight, recognition, and confidence among customers. We found that a great customer experience makes good business sense, as it is correlated with stronger brand loyalty.
Download this free white paper now!
Scott Robinson

Sr. Director, Loyalty Solutions