Consumers and marketers are experiencing a rapid transformational change as the mobile payments industry takes off in North America. With heavyweight Apple behind Apple Pay and equal brand goliath Google backing Android Pay, contactless NFC payments now have the platform-level support needed for mainstream user adoption. According to a report by Forrester Research, in 2015 27% of marketers and digital business executives plan to start using mobile wallets to engage with their customers.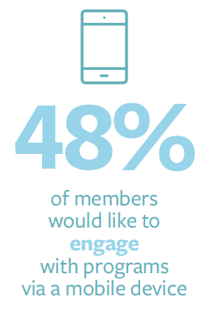 This mobile payments revolution is accelerating the convergence of mobile payments with loyalty programs, creating new opportunities and challenges for marketers seeking to provide mobile loyalty solutions that increase customer retention and program engagement. A new study published by market research and consulting firm Chadwick Martin Bailey (CMB) found that among mobile wallet users, 27% are very likely to switch to businesses that offer mobile payment capabilities and 18% would increase purchase frequency if mobile payment capabilities were present. More, the 2015 Loyalty Report found that 48% of loyalty program members would like to engage with loyalty programs through their mobile devices.
Now, that's kind of a big deal. But, which mobile wallet is the platform of choice for consumers?
Mobile Wallet Wars: Apple Pay & Android Pay
The race for the consumer preferred mobile wallet is far from over. According to the CMB study, 2015 is the year mobile payments take off with an additional 22% of consumers likely to adopt mobile wallet solutions in the coming 6 months. Let's get a little more familiar with the mainstream leaders – unsurprisingly tech giants and cult brands Apple and Google.
Android and iOS devices account for over 94% of the smartphone market in North America, with Android edging out iOS slightly according to the latest comScore research. Despite the dominance of these platforms, brands have yet to leverage the associated mobile payment solutions as a key marketing strategy. This is largely due to a number of technical and usability issues with the mobile payments ecosystem and wallet apps themselves. More, consumer concerns over security still present a barrier to mobile wallet adoption and overall usage. The result? Opportunities presented by the mobile wallet remain largely untapped with the technology category winner undecided.
Passbook & Apple Pay
Since iOS 6 (2012), Apple has pre-installed the Passbook wallet app on all iPhones, providing users with a convenient way of managing all of their loyalty cards in one place. In late 2014, Apple integrated Apple Pay into Passbook, putting credit and debit cards right next to these loyalty cards and making contactless payments a reality. The decision to finally embrace NFC hardware in their newest devices ensured the widespread compatibility of their solution out of the gate, and the use of the Touch ID fingerprint sensor and tokenization ensured that the process was secure. This resolved the two biggest user concerns and adoption barriers for the new technology.
Google Wallet & Android Pay
The Google Wallet app has been available since 2011 through the Google Play Store. Similar to Apple Pay, it supports the storing of payment and loyalty cards, as well as NFC tap-to-pay. The challenge for customers adopting Google's solution had been the optional nature of the app (vs. Apple's pre-installation) and the clumsy user experience that a consumer would not generally expect from Google. To make a payment, the device needed to be tapped to the point of sale terminal, a payment method chosen, and a PIN entered.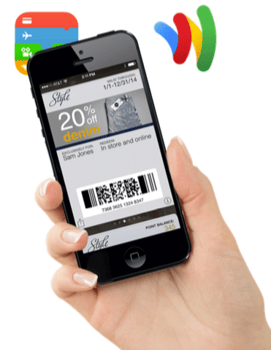 With Android's latest version – M – Google has begun rebranding its payment solution as Android Pay and resolved these issues by pre-installing the software on all devices and simplifying the user experience (nearly identical to that of Apple Pay), including the addition of fingerprint sensor support. The original Google Wallet app will be repurposed as an app to send money between friends.
Even though Google Wallet launched first, it does not have the first-to-market advantage in terms of adoption, since early launches are being considered "false starts" from a consumer perspective.
Blurred Lines: Loyalty Programs Rewards & Mobile Wallets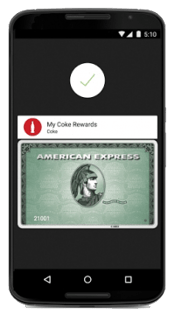 This year, Google and Apple both elevated the mobile wallet by seamlessly integrating loyalty program reward redemptions into the payment process and blurring the line between the two.
During a Google I/O developer conference session, director of product management for consumer and merchant payments Pali Bhat demonstrated how Android Pay could be used to pay for a Coke using his My Coke Rewards points as currency at a vending machine. Android Pay identified that Pali was buying a Coke and provided him with the option to select the My Coke Rewards card instead of his credit card. From there, the tap-to-pay process was identical to paying with dollars and he was able to redeem his points for a free Coke.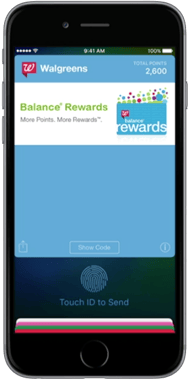 One week later, at Apple's WWDC developer conference, Danvin Ruangchan of the iOS Apps & Frameworks team announced that starting in OS 9, Apple Wallet – the new name for Passbook – would allow for seamless redemption of loyalty rewards at checkout with Apple Pay. The process is made possible because the wallet app passes loyalty data (a member's unique identifier) alongside payment data during the NFC transaction using Apple's proprietary Value Added Services Protocol. Apple also announced that this fall, more than 80 million active members of the Walgreens Balance Rewards program, the largest drugstore loyalty program in the U.S., will be able to use their rewards with Apple Pay. Kohl's, Coca-Cola, Dunkin' Donuts, Panera Bread and Wegmans Food Markets are some of the other retailers planning to follow suit in providing these capabilities to their members. This acceptance should only increase with the consideration of Apple Watch users.
The fact that both mobile giants have taken this step at the same time is a big deal for consumer loyalty programs. Brands benefit from being kept top of mind during members' daily lives and members benefit from a frictionless user experience and the surprise and delight factor of being able to pay with points.
Retailers and merchants will have to upgrade their POS terminals to support these new capabilities, which will likely mean that they will not be commonplace for some time. Hardware makers have been quick to respond though, with Ingenico leading the charge in supporting Android Pay, and Verifone announcing that its POS terminals would be the first to support rewards and loyalty information via Apple Pay.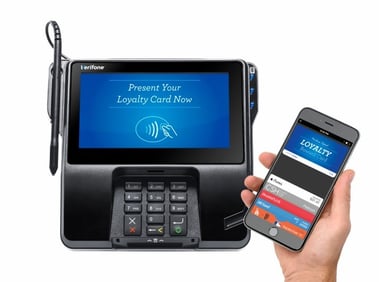 Until now, the fragmented mobile payments ecosystem combined with the shortcomings of both platforms have been major obstacles to market adoption. As a result, marketers aiming to create a unified loyalty experience for their members have waited on the sidelines, reluctant to embrace the technology. Now that major mobile wallet providers like Apple and Google have resolved many of the technical, usability and security issues with their offerings, consumer adoption and usage is exploding. In fact, Forrester reports that Apple Pay makes up more than $2 out of $3 spent on purchases using contactless payment across the three major U.S. card networks.
There is a clear call to action for marketers and retailers – it is time to get up off the bench and take a hard look at mobile wallets. Mobile wallets are not just for payments. Consumers want a better shopping experience and are beginning to consider the mobile wallet a factor in their purchase decisions and brand loyalty.
Coming up next: How the Mobile Wallet Fits in Your Brand Loyalty Strategy
---
Learn more about #mobiloyalty in the 2015 Loyalty Report Executive Summary.