Have you heard the news? This year will be the year of mobile!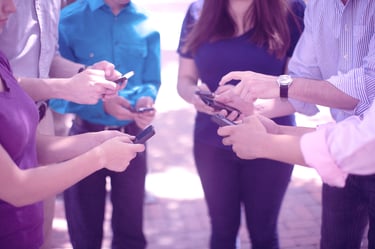 We have been hearing this phrase uttered every year for at least the last five years and yet, somehow, we are still not prepared. We are barely scratching the surface of what is possible with mobile and are expecting big things, which are not going to happen by themselves.
We are aware of the consumers' love affair with their mobile devices. According to Pew Research Center:
64% of American adults now own a smartphone of some kind.
44% have slept with their phone next to their bed because they wanted to make sure they didn't miss any calls, text messages or other updates during the night.
29% of owners describe their mobile phone as "something they can't imagine living without."
Also, quite importantly for marketers, consumers use their mobile phones while they are shopping.
According to a recent Statista study, U.S. smartphone owners use their mobile device while shopping for the following reasons:
66% to compare prices of a product or service;
58% to find the nearest store location;
58% to check for discounts;
49% to read reviews;
46% to look at competitive products or services;
38% to check availability;
37% to compare features; and
17% to make a purchase.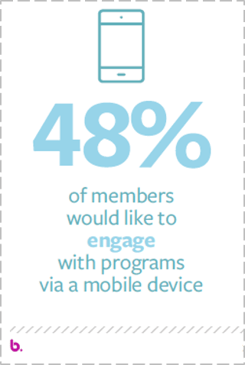 Consumers are using their phones and are knocking on our virtual door, ready to give us their hard-earned money in exchange for our goods and services, but are we ready to answer? They are here and ready to engage with us, but are we delivering on expectations? Unfortunately, it doesn't seem that we are. Most organizations are failing the test of ultimate loyalty: getting the consumer to download the brand's mobile app and then to use it. According to Bond Brand Loyalty's 2015 Loyalty Report, only 12% of consumers even downloaded a loyalty program app, never mind used it, whereas 48% would like to engage with loyalty programs through their mobile device. The barrier to downloading an app is a one-time minimal effort needed by the member. It's a familiar action, and with technologies like Apple's Touch ID that allow you to authenticate with your fingerprint, installing an app couldn't be easier. What, then, is the challenge?
To effectively launch an app and keep it on someone's phone, a brand needs to do three things right. First, the app should provide true utility and an exclusive feature or two, which build buzz and get people excited and talking about it. Second, at launch, the brand should leverage all of its established communication channels simultaneously to promote the app. Cutting through the noise is important to capture headlines and build mind share. Third, a brand needs to monitor the way in which the app is used, listen to its users' feedback carefully and pivot quickly if needed.
Once a consumer has downloaded the app, that brand occupies a part of the customer's mobile real-estate. Lasting power requires ingenuity, though. I believe that the main reason that brands are not able to deliver on mobile expectations is that we are thinking of mobile in silos. The mobile app is separate from a website, which is (not always) mobile enabled. The mobile payments strategy is separate from all communications such as text and email (most of which are viewed from a mobile device), the loyalty program and location-based push notification. If there is any in-store mobile integration with augmented reality, it also is performed separately.
Consumers on the other hand, are looking for greater utility and integration among in-store, online and mobile channels and within their shopping experience. After all, the mobile device is an extension of their hand; they can't imagine their lives without it and your app is always a tap away. As demonstrated in Statista's data above, consumers are looking for a continuous stream of activities before and during their shopping trip. We also have a great opportunity to engage consumers after the shopping trip and continue our conversation with them.
What the Consumer Can Imagine
Pre-Shopping
During Shopping
After Shopping

Compare prices of a product/service
Compare features and benefits
Find the nearest store location
Read reviews
Look at competitive product/service
Check availability

Check for discounts
Make a purchase

Write a review
Share on social media
Further Utility that Consumers Can't Even Imagine that Marketers Can Deliver
Pre-Shopping
During Shopping
After Shopping

Manage profile/ account preferences

Socially share item to be purchased
Order home delivery
Store navigation of desired item
Self-checkout anywhere in store
Look up loyalty points earned
Recieve highly relevant location and time-based promotional offers
Look up promotional offers
Mobile payment
Digital membership/loyalty card
Integrate mobile payment with loyalty program

Bounce back offer
Emailed reciept
Stored warranty information
Product recommendations based on previous purchases
Access purchase history
Redeem fore rewards
Bolded tasks were derived from the 2015 Loyalty Report and the rest have come from my personal wish list that a brand can deliver on all of those expectations.
Mobile is really just the first wave in the Internet of Things, a movement towards utilizing data to make all of our devices smart and interconnected. Companies like Google, for example, are placing major emphasis on favoring mobile-friendly results, indexing app content, and even streaming content from apps that are not installed on a user's device in web search results. We continue to see a breakdown of content silos and a blurring of the lines between app and web.
Likewise, consumers are in the midst of a seismic shift in the way they interact with their brands and aren't delineating how the service is being delivered to them, whether it is through the app, mobile web, QR code or text. They expect equally brand-aligned, high quality mobile experiences across all of these media and touch points. They live and breathe mobile every day and have become highly attuned to what makes an authentic brand experience. They don't consider mobile payments separate from their loyalty program: they are all plastic cards that need to be replaced.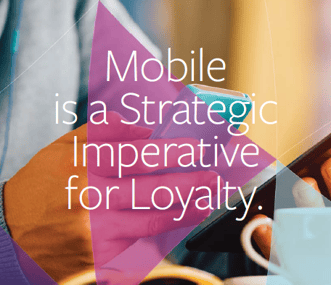 We, as marketers, need to think of all the customer touch points throughout their experience to ensure that the process is simple, intuitive, consistent, and seamless. From a functional point of view, we need to think of all the tasks a consumer needs to accomplish in order to make the purchase, and of how we can facilitate the process for him or her. How do we meet and even perhaps exceed consumer needs? The opportunity here is enormous: the 2015 Loyalty Report found that customer loyalty to the brand is 10 times higher among consumers who strongly agree that the brand's mobile app meets their needs.
Are any of us doing it right? Unfortunately, we can't think of many brands that excel across all the shopping journey touch points. Because the activities are so disjointed organizationally, we see leaders emerging in different categories:
Pre-Shopping
Ikea's app allows you to visualize what the furniture would look like in your home by superimposing it over your current home space.
Starbucks and McDonald's allow you to place your custom order with your app and pick it up in store.
Amazon is brave enough to allow you to check competitors' online prices.
During Purchase
Walgreens is testing Google's technology to facilitate store navigation.
Always a leader in customer experience, Apple allows you to pay for any product anywhere in the store with your app without having to interact with any sales associate.
Everyone has heard of the virtual grocery store that Tesco set up in 2011 in a South Korean subway station, whereby consumers were able to order their groceries directly from their phone and have it arrive at their home a day later. This concept has been replicated by a few other companies in the last four years.
Starbucks integrates payment with loyalty and is even forming a mini-coalition by getting into a space previously untapped by loyalty programs, a Peer-2-Peer economy through its partnership with Lyft, New Times and Spotify.
Post Purchase
Starbucks fosters creativity and engages customers in product design via its My Starbucks Idea forum.
Nike connects app users with coaching and advice based on their personal goals and achievements.
The company that comes to mind that delivers great customer utility and experience is the controversial Uber.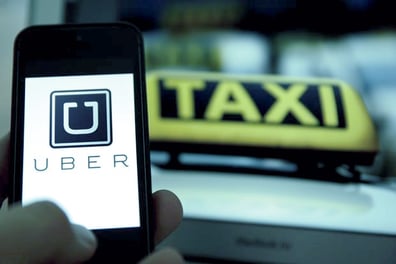 Love it or hate it, it does mobile right:
Pre-Shopping
Get an estimate of your fare.
Determine how long the wait would be.
Read and compare reviews of drivers before you select one.
See a photo of the driver, as well as a description of the car, license plate number, and ETA.
During Shopping (the Ride)
Notification of when your ride arrives.
Connect your Spotify music streaming account to your Uber account and you can play your favorite music during the ride.
Your personal and payment information is preprogramed, facilitating the check-out process. Hop in and hop out without ever touching your wallet or even the app.
After Shopping
You are sent a copy of your receipt via email.
You can review and rate the driver.
You can share your experience on social media.
The only thing that is missing is the ability to earn points for your ride
At the end of the day, your mobile strategy is an important interface between you and your consumer and it is important to get it right. Here are key points to keep in mind:
Think like a consumer. Map out all the consumer experience touch points and ensure mobile plays a strong role. Consider all aspects from pre-purchase to during the purchase and finally to after the purchase. Ensure the mobile journey is seamless, integrated through all the consumer steps, and brand-aligned regardless of whether they are shopping in the store or in the comfort of their home.
Your mobile strategy is an integral part of your consumer experience strategy. Structure your organization to ensure all decisions touching your consumers' mobile devices are made holistically and are integrated through all touch points: mobile app, mobile web, communications (text, email and push notifications), loyalty program and mobile payments.
Increase the utility provided by your mobile strategy. Think about how you can add value by including an exclusive feature or two on mobile and providing content and information to the consumer.
Have fun and allow your consumer to be entertained by your app!
We really need to get our mobile game together and deliver on what consumers want. They are here, they are ready and they want to engage, but we are under-delivering. Consumers don't differentiate between technology companies and marketing agencies, which means we need to be at least as good. So let's innovate and give the consumers what they want. It will pay dividends for our brands.
Lia Jasani
Loyalty Consulting Director