Fast Food or rather Quick Service Restaurants (QSR) are ubiquitous and in a time when consumers eat out an average of four meals a week, are a huge part of the dining industry. Many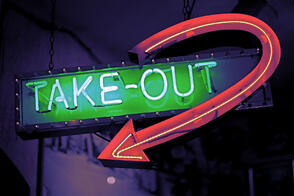 consumers, especially the ever important Millennial segment, are looking for a fast and healthy way to feed themselves and their families. As Millennials are the consumer demographic that are most influenced by loyalty and rewards programs and control 1.3 trillion in spending power, it's clear why these QSRs are targeting them in their marketing efforts. Papa John's, a QSR that gained top scores in both the ACSI Restaurant Report and The Loyalty Report, had a high customer satisfaction score with regards to both their product and their popular loyalty program Papa Rewards. But other than offering discounts and deals, how can brands in the crowded category of quick dining cultivate customer loyalty? As we see with Papa John's, the recipe for getting customers to keep coming back is to offer them ways to connect with your brand on more than a "take out" level.

How to Cultivate Customer Loyalty in QSRs
Loyalty Program.

29% of American

consumers surveyed in The Loyalty Report said they wouldn't be loyal to a brand if it weren't for their loyalty program. So, why not reward your loyal customers and increase interest in your brand with a rewards program?
Quality not quantity. As the recent

ASCI Restaurant Report

pointed out, QSRs are almost on par Full Service Restaurants in Customer Satisfaction due to increased quality of food and online services.
Made to order.

Personalization and customization

of menu items in QSRs are leading consumers to step away from Full-Service restaurants to get exactly what they want.
Loyalty can be hard to build, especially for brands with which consumers mostly interact with when they're hungry. As Papa John's has shown us, loyalty can be cultivated by offering a relevant rewards program, having a high quality of customer satisfaction and evoking a feeling of value for being connected to the brand. The very opposite can be said for McDonald's, who ranked lowest in the ACSI report and has been called out by Forbes as lagging behind other QSRs with regards to its loyalty effort and customer engagement. Building loyalty is about more than just getting a customer's order right or delivering on time; it's about serving up a perfect mix of loyalty program engagement and customer experience that feeds their love for your brand.