On the only Friday the 13th of the year, I stopped at a small-town Tim Horton's on my way home about an hour outside of Port Dover, waiting in line behind two gentlemen in riding gear. They saw my Harley-Davidson t-shirt, started up a conversation, and thirty seconds later refused to let me buy my own coffee—and not because I said I worked at/with/for H-D, but because I was in Port Dover and was wearing an H-D tee and was, therefore obviously in some way a part of the Harley-Davidson MC family. They asked me to sit and have a coffee with them. They showed me their photos with Karen & Bill Davidson from the morning. They asked if I knew Randy.
Activating at Canada's largest one-day motorcycle rally comes with a few first-timer expectations (yes, the 'thong guy' was there and going strong), but the giant orange exclamation mark I am left with is that this community really is something special. They are fun, polite, welcoming and accepting—even in crowds of a hundred thousand—and they would live and die for their passion.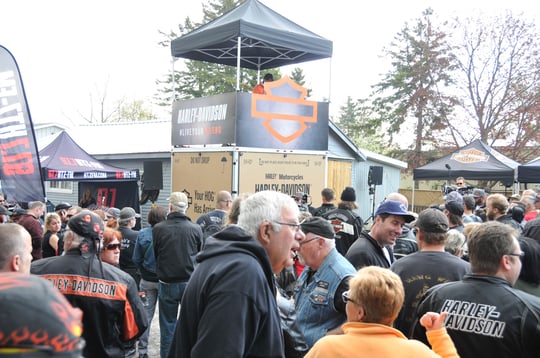 Harley-Davidson is one of the most inked brands on the planet (if not the most…that is a title I might bet my money on), and we had a feeling that, if we gave our guests the chance, they would prove it.
Setting up shop at Clare's Harley-Davidson on Main Street in Port Dover, we offered live, real, H-D-inspired ink all day long.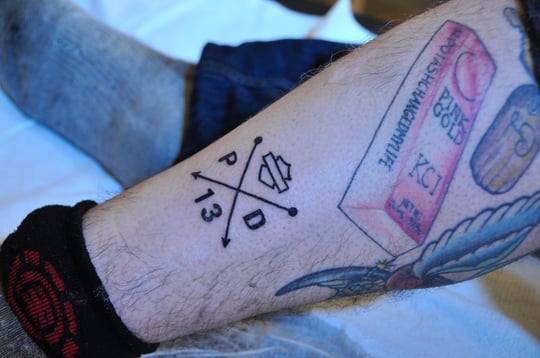 Our friends @blackpearltoronto helped us create some flash work that could be completed with choice of colour in 30 - 60 minutes per sitting, so we could offer a variety of choice while getting as much work done in one day. We had two artists—@mattvanasse and @lizatattoos—doing flash work, plus a third artist, @mikestorey, who would spend the day on an enviable larger custom piece for one lucky guest.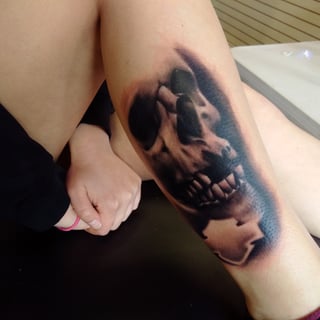 Now, I should say I didn't expect filling our schedule to be a problem; this concept perfectly bridges the 'old-school' H-D rider with the new, younger demographic we're seeing roll in. Ink is another passion they have in common, yes, but we know loyalty—this kind of cult-like loyalty—spans all age and gender for this brand. To quote Sean Claessen, EVP Strategy here at Bond, "this is a special community of implicit membership. This is a band of loyalists like no other, of die-hard brand fans who take #fanaticaloyalty to the next level."
But not even I expected the reaction we saw! We opened the doors and started scheduling at 9am, and by 10am we were fully booked. By 11am we had a waiting list of 25. By noon we had a crowd literally standing by just in case there was a no show. At the end of the day, we inked 18 incredibly passionate brand advocates.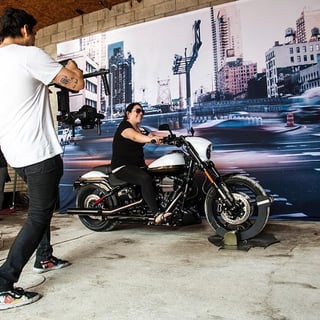 Thank you to our friends at Harley-Davidson for trusting us with this very important event and launch, and for believing this particular activation would work. Special props also to our friends at The Black Pearl for being awesome, and, most of all, to the throngs of passionate advocates we got to spend the day with, and who literally branded themselves to commemorate the day and their passion for Harley-Davidson. I'm personally so very excited to have helped you #LiveYourLegend and fuel your passion in some small way.
I will end with my favourite client quote to hear: "I can't believe you pulled this off."
I can. ;)
d.
#experientialoyalty
K. Dee Howard

Account Director, Live Brand Experiences