Now in its seventh year, the
Loyalty Report 2017
reveals that consumers have reached their Program engagement threshold despite an upward trend in new Program memberships. Our research finds that new program enrollment has grown by 31% in the past four years to 14.3 Programs per member; yet, only 6.7 Programs are active. This means that if your Program is not engaging or properly rewarding Members for their devotion, your Program is at risk and needs work.
A poor experience can significantly affect Member satisfaction, which can have a direct impact on spend, choice, advocacy, and retention, so it's critical that you do everything possible to be among the active 6.7 Programs. Here are five ways to ensure your Program makes the cut.




1. Differentiate on experience, not just on rewards:
Experience drivers like digital, personalization, and the human touch comprise 64% of what drives satisfaction, and are more important than monetary drivers (36%) such as discounts, rewards, and redemptions, in achieving Program satisfaction.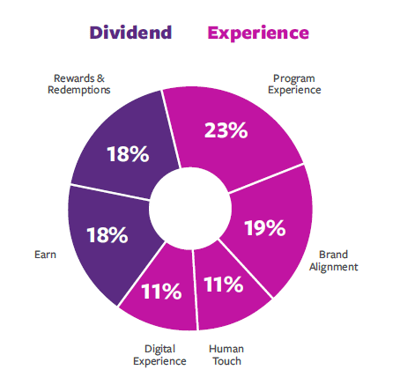 The key here is the program experience, and not only the rewards. To increase overall program engagement, offer a mix of meaningful reward and experience elements. When Members enjoy participating in loyalty Programs, they are
10x
more likely to be satisfied with your brand. Think about how you can create meaningful and differentiated program experiences for your members to foster brand loyalty.
Amazon Prime built loyalty through choice and convenience, while hospitality Program operators often layer in non-monetary benefits that make the overall brand experience better, such as early check-in, choice of floor or view, and free perks like welcome drinks or Wi-Fi.



2. Inspire loyalty through a better CX:
Your frontline staff have the power to improve the member experience and should be your best advocates. Unfortunately, only 22% of Members agree that brand representatives make Members feel positive emotions, so it's important to show Members more attention and love.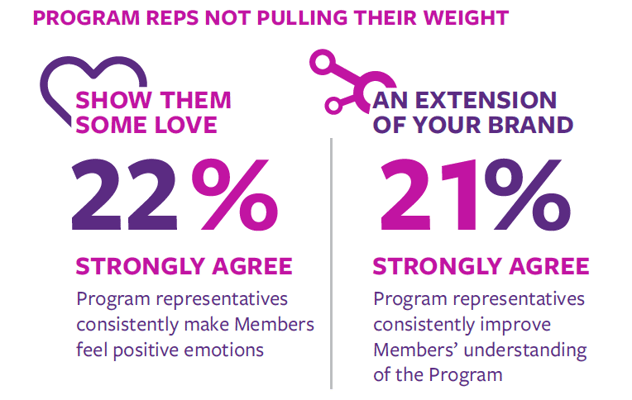 When representatives support a Member's understanding of the Program, we see a 12-fold increase in Member retention. Similarly, among Members who agree the Program's representatives make them feel positive emotions, there is a 13-fold higher likelihood of Member retention. While the human experience links members to your brand, it's important to check other touch points including digital, customer support, and all things that make up your program experience.

If your program includes a digital or mobile experience, ask of your Program, "Are we delivering the best digital and mobile customer experience? Does it allow members to track rewards and receive offers?" If you aren't providing a digital loyalty channel, consider that 57% of members say they would interact with loyalty programs on their mobile devices.

Neiman Marcus has been creating unique opportunities for Members to interact with its InCircle program digitally through the NM app. Members can review the product catalog, connect with sales associates, and explore new designer arrivals. Neiman Marcus introduced the world's first digital mirror, which takes a snapshot or video of the shopper in a new outfit. Members can store images in the NM app and view later or share with a friend. The program also offers top-tier members unique fitting room experiences and a member-only concierge service.

InCircle is a top-ranked Loyalty Report 2017 program, and it's clearly working as Neiman reports that Members spend about 11 times more in a year than their non-Member customers.



3. Foster better program awareness and communicate progress towards redemption goal:
Did you know, Americans are sitting on $100 billion worth of points? As it stands, 57% of members don't know their points balance and 38% are unaware of their points value. For program operators, this is a call to action to drive awareness and in turn encourage increased engagement and redemption.

The study also found that 34% of Members do not have a redemption goal, which likely means they do not have an intended use for their accumulated points. Members without a goal are less satisfied; as such, Program operators should consider improving communication frequency, with an emphasis on points balance and goal setting. Human nature tells us, the closer members are to a (redemption) goal, the more likely they will pursue it and when they are excited about earning, they are excited about redeeming.


4. Refine program delivery through personalization:
We've all heard it—personalization and relevancy are key to engagement, yet most Members are not satisfied with the level of personalization that their programs offer. Only 25% of Members are satisfied with the extent of personalization they experience. This is an opportunity for your program to stand out from the competition and deliver a more appealing, individualized experience.

The Program Member database is a significant resource for developing program strategies, targeted offers, and an overall better Member experience. Maximizing the data that you have and investing in better data analytics will allow you to make smarter decisions which in turn will lead to improved Member engagement and program performance.

Our report ranks Walgreens Balance Rewards Program as a top program in the retail-drugstore category. Membership has grown to 150 million since its launch in 2012, and today, 70% of Walgreens sales are generated by Balance Rewards Members. The retailer successfully leverages its Member database to identify and target high value customers through relevant communications that Members enjoy receiving, no matter where they are situated along the customer journey.

While the level of personalization can vary, it is necessary to deliver a customized and relevant Program experience that surprises and delights Members, ultimately gaining their devotion to your brand.



5. Seamlessly integrate your Program across brand touch points:
A successful Program is one that makes the overall brand experience better. Our study revealed a strong lift in satisfaction among Members who agree that the Program makes their experience with the brand better; however, only 29% of Members feel this way.

The key is not to operate your program as a siloed marketing initiative; instead, integrate your program with other brand activities to form a cohesive loyalty ecosystem and Member experience. Your Program should strive to align with all areas of your business in pursuit of positive brand loyalty outcomes and a seamless experience.

To improve the efficacy of your ecosystem, consider, "How can we do more with what we already have?" and "What gaps exist that warrant the addition of something new?" Moreover, it's especially important to ask, "How can what we have work better together?" and even, "What other assets exist across the organization (that can be integrated into the ecosystem)?"

Focusing on your most valuable customers pays off, yet only 22% of Members perceive their experience with a brand to be better than that of non-Members. Given that a brand's best customers tend to be Members of their Program, it's important to recognize them, make them feel special, and differentiate their experience to ensure they continue to spend more, shop more often and say good things about your brand. Remember, the role of the program is to build loyalty to the brand, not just to the program.


To download a copy of the Loyalty Report 2017 Executive Summary, please click here.
*Based on Loyalty Report 2017 U.S. Data.