Make no mistake: Building authentic relationships with consumers is hard work—and getting harder by the day. Consumer expectations continue to rise. The pace of change continues to increase. The need to stay relevant is more important than ever.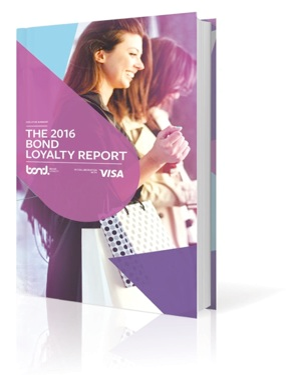 Our latest research from the 2016 Bond Loyalty Report, shows that consumers continue to value Loyalty programs—programs that pay dividends back to brands in the form of loyalty, advocacy and increased spend. It's time for marketers to start paying closer attention.
If you've taken a "set it and forget it" approach you've likely overlooked what matters most to your program Members. Taking a closer look now might land some relatively quick wins.
Key findings from the report:
Loyalty programs continue to have a positive impact on consumer behaviors and relationships. For instance:
70 percent of consumers modify when and where they purchase to maximize loyalty points;
81 percent agree loyalty programs make them more likely to continue doing business with a brand; and
75 percent agree that a loyalty program is part of the relationship with a brand.
Program enrollment increases slightly to 13.4 memberships and active loyalty memberships hold steady at 6.7. Despite the year-over-year increase in enrollment, the number of programs in which Members are active has stalled, suggesting that consumers have a strong appetite for loyalty programs yet are increasingly discerning in where they shop. Program operators and marketers will be pleased to affirm their investment in loyalty yields the right outcomes, yet should take note and ensure their program cuts through and differentiates to sustain Member engagement and activity. It is key to note that only 39% of Members strongly agree that they will likely be using the program a year from now – the remaining 61% might consider shifting their engagement to another program.


Members could be more satisfied with loyalty programs as a whole. Yes, the 2016 report showed that overall satisfaction with loyalty programs has increased, but only very slightly; there's plenty of room for brands to improve—and over-earn their share of Member satisfaction. Sectors with the highest level of satisfaction in Loyalty programs are:

Cobranded hospitality credit cards
Drug store and grocery
Bank-branded cash back and rebate credit cards
Gas and convenience, and
Bank-branded points programs credit cards
The lowest levels of satisfaction are found in Coalition programs; Consumer packaged goods (CPG); Travel airline; and Travel hospitality.
If your members aren't feeling special, they're not the only ones missing an opportunity. Customer Experience is a top priority for marketers. But, the sad truth is that only 20 percent of those enrolled in Loyalty programs feel recognized and special. When brand or program reps make Members feel special and recognized, however, their level of satisfaction is 2.7 times higher. Another factor that plays a role in the Member experience is consistency. The percentage of members satisfied with a loyalty program is 2.9 percent higher when the program experience is consistent across all touchpoints. Work toward recognizing your Members in every interaction with your brand, and optimizing the consistency of your channels.
Personalization can significantly amplify member satisfaction. You already know that personalization is important—and half of all Loyalty program Members agree. Yet, only 22% of Members are very satisfied with the level of personalization they're getting. Overall satisfaction amplifies by eight times among those who are "very satisfied" with a program's level of personalization (vs. 'very dissatisfied'). Now is a great time to ask yourself: How well do I really know my customers? What does personalization mean to my customers? How well do I understand what they want and need? Brands that have excelled in this area include, for example, Netflix, Chick-Fil-A and Dollar Shave Club.
The sixth annual Bond Loyalty Report was conducted in collaboration with Visa, and captures responses from 12,000 U.S. and 7,000 Canadian consumers. It explores all aspects of Loyalty programming, including program mechanics, communications, rewards, needs fulfillment, emotional and behavioral outcomes, brand alignment and deep dive research on over 280 leading Loyalty programs.
More importantly, the study offers a clear voice of direction about how personalization, engagement and customer satisfaction may not be so far out of reach.
Consumers have shown that they're willing to change their behaviors for a good Loyalty program. Are you willing to change yours for a good customer?
To learn more about the state of Loyalty—including a listing of top ranked Loyalty programs by sector, engagement via mobile and why the redemption experience is so important—download the 2016 Bond Loyalty Report executive summary.